"How many loaves do you have?" he asked. "Go and see." When they found out, they said, "Five—and two fish." Mark 6:38
What is Palmful of Maize?
Palmful of Maize is a vision that comes from the story of the feeding of the 5,000. In Mark 6:38, Jesus asks the disciples "What do you have? Go and see." In that story, a boy has 5 loaves and 2 fish. In Malawi, every child has maize.
Through a curriculum developed in partnership with GenerousChurch and delivered in collaboration with STUM (Sunday School Teacher's United Movement), Palmful of Maize teaches the children of Malawi to "Give God what you have." Each child is encouraged to bring to church a palmful of maize to church.
As maize is collected, 80% of it shared with the poor in each district with district committee oversight. 10% is sold locally and funds the administration of this vision in Malawi. 10% is sold locally and funds the advancement of the vision to other African countries.
Watch the video to learn more and to see the first fruits of this vision to turn dependency into discipleship.
teachers trained in 12 districts
children participating in Palmful of Maize
churches actively engaging participants
kilograms of maize contributed
Host a Palmful of Maize Watch Party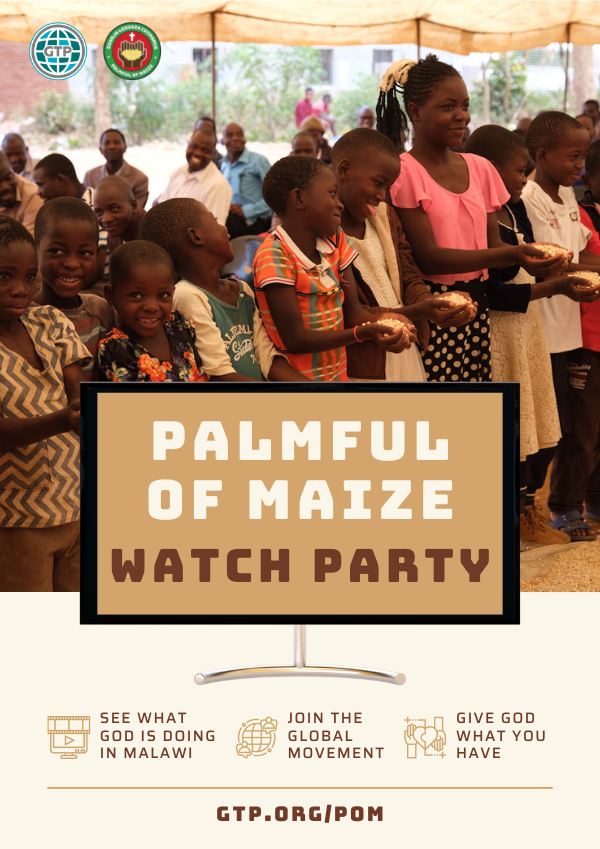 Download a kit to help you host a Palmful of Maize Watch Party. It includes instructions, a fact sheet, and answers to frequently asked questions.
Give God what you have. It will shape you, just like it's transforming children across Malawi.
So far, we have trained teachers who have engaged children in 12 of 28 districts in the country. Pray with us for God to supply resources to train teachers in the remaining districts and take this vision to the neighboring African countries.
It's possible, but we must work together. Give and encourage others to join you.